Top 10 best places to visit in Manali.
Best places to visit in Manali.
Manali is a beautiful hill station in the Kullu District in Himachal Pradesh. It has an average altitude of 6,427 feet above the mean sea level. Himachal Pradesh state is home to the high-altitude resort town of Manali. Manali is located on the bank of the Beas River about 39 km away from Kullu City hub and 268 km away from Shimla. The town of Manali is seated comfortably in the River Beas Valley, and its popularity has increased faster than the clouds that dance on its hilltops.
He established his abode in the present Manali, which is considered the changed name of 'Manu-Alaya', Manu's abode. Manali is famous for its traditional folk songs and dances from ancient times and is blessed with an abundance of traditional art and craft from ancient times. It runs from mid-January to the end of March and from August to October.
1. Hidimba Devi Temple.
Hidimba Devi Temple, also known as the Hidimba Temple, is located in Manali, a hill station in the State of Himachal Pradesh in north India. There is a cave temple dedicated to Hidimba Devi, wife of Bhima, who appears in the Indian epic Mahabharata. This temple remains open daily from 8 am – 6 pm.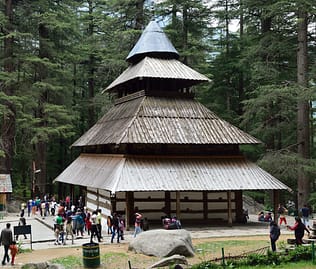 2. Vashisht temple.
Vashisht is a small village located about 3 kilometers from Manali, across the Beas River. This lovely village is known for its sulfurous hot water springs and the Vashisht temple, which was built right next to the springs. This spring's water is thought to have powerful healing properties and can cure various skin diseases and infections.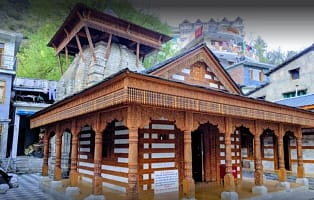 The Vashisht temple, which still stands today, is thought to be more than 4000 years old. This temple remains open daily from 7 am – 9 pm. 
3.  Manu Temple.
Manu Temple, dedicated to the Indian sage Manu, is located 3 kilometers from Manali Bus Stand in old Manali. Manali is named after the sage Manu, who according to mythology was the creator of the human race on Earth, and it is believed that he meditated here. This is said to be India's only Manu Temple. Manu Temple is one of the most popular tourist attractions in Manali.
Visitors can enjoy a beautiful view of the surrounding hills and the river Beas from the temple. The temple, located in the congested area of old Manali, is frequently visited by tourists from all over the world. This temple remains open daily from 8 am – 6 pm.
4. Himalaya Nyingmapa Buddhist Temple.
Himalayan Nyingmapa Gompa is a Buddhist monastery in Manali and one of the most well-known monasteries in northern India. It is located near Manali's Mall Road. A large statue of Lord Buddha can be found in this temple. Its religious significance is very important to devotees, but tourists are drawn to it because of its architectural beauty and tranquility in the environment.
Himalaya Nyingmapa Buddhist Temple is famous for its iconic two-story Sakyamuni statue, which attracts thousands of devotees and tourists each year. This temple remains open daily from 6 am – 7 pm.
5.  Jogini waterfalls.
Jogini Falls is located on the northern outskirts of Vashisht Village and serves as the village boundary. The waterfall cascades down several levels from a height of around 150 feet. At the base of the fall, there is a small pool where visitors can cool off and spend some time.
The flow of the water is heaving during the monsoons, and it is advised not to venture into the water at this time. The Jogini Mata temple is located at the bottom of the waterfall. The surrounding villages regard it as a sacred site. Locals bring their children here for their first tonsure.
6. Solang valley.
Solang Valley is located 13 kilometers from Manali, between the Beas Kund and Solang Village. The valley is well-known among tourists for its breathtaking views of snow-capped mountains and magnificent glaciers, which attract skiers from all over the world.
The beauty of Solang Valley is unparalleled, and many people visit the valley every year to marvel at its pristine, snow-white splendor. Especially in winter, when the entire area is blanketed in fluffy, milky white snow, it appears to be straight out of a movie. Solang is truly magnificent in winter, with groves of emerald, green trees dotting the pure white landscape, clear blue skies, and mountains as far as the eye can see.
7. Old Manali.
Old Manali is a peaceful settlement nestled beneath a valley blanketed in apple orchards. In comparison to New Manali, it is cleaner and less crowded, prompting many travelers to visit this location more frequently than New Manali. The tranquility of Old Manali is possibly exceptional.
Old Manali may have the prefix "old," but it is far superior to the main Manali town. While the latter is one of India's most popular summer destinations, the former is a breath of fresh air! The only thing that separates Old Manali and Manali geographically is the Beas River, but once you cross it, the scenery changes dramatically. This picturesque location, as well as nearby Kasool and Dharamkot, are part of the Southeast Asia banana pancake trail.
8.  Atal tunnel.
At a historic ceremony on February 9, 2022, in New Delhi, the Atal Tunnel received official recognition from the World Book of Records as the "World's Longest Highway Tunnel Above 10,000 Feet." 
The Border Roads Organization (BRO), which built this engineering masterpiece connecting Manali to the Lahaul- Spiti Valley, was recognized with an award by Lt Gen Rajeev Chaudhry, Director General of Border Roads Organization (DGBR). An organization called World Book of Records UK is responsible for cataloging and authentically certifying outstanding records from all across the world.
9.  Arjun gufa.
Arjun Gufa is a fabled natural formation in Manali. Arjun Gufa is an interesting place to visit because it is located on the bank of the Beas River. This beautiful natural attraction is located near Prini village, approximately 4 kilometers from the hill station of Manali.
10.  Nicholas Roerich Art Gallery and Museum.
Svetoslav Roerich, Nicholas Roerich's son, established the Nicholas Roerich art gallery in 1962. Nicholas Roerich lived in the building that now houses the gallery. The Himachal Pradesh Government and the Russian Government have formed a trust to run this art gallery as the Roerich Heritage Museum.
The peaceful and romantic tourist destination of Kullu Manali is ideal for such trips. It has a cool climate and snow-capped mountains that make it a popular tourist destination. There are many things to purchase during a Kullu Manali trip, such as woolen clothing, shawls, Kullu caps, Dorjes, carpets, handicrafts, and unique Tibetan items.