Best 6 places to visit in Goa.
Goa is an Indian state that consists of a mainland district on the country's southwest coast and an offshore island. It is about 250 miles (400 kilometers) south of Mumbai (Bombay). It is one of India's smallest states, bordered on the north by Maharashtra, on the east and south by Karnataka, and on the west by the Arabian Sea.
Goa Travel and Tourism Goa, located on India's west coast, is one of the smallest states known for its beautiful beaches, delectable food, and Portuguese heritage. Panji, Goa's capital city in the center, is well-connected by an international airport, and roads and trains connect the north and south parts of the state.
The weather in the party capital is pleasant and comfortable from mid-November to mid-February. With other tourists making the most of Goa's three months, this is the ideal time to relax on the beaches.
1. Agonda Beach.
For those who want to get away from the chaos, Agonda Beach in South Goa is a peaceful and beautiful beach. This pristine beach in Goa is nearly two miles long and is surrounded by beach shacks that provide mouthwatering meals and beverages.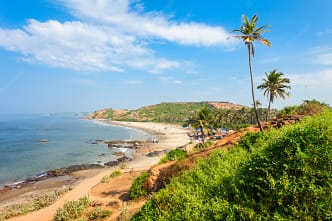 Agonda's beach is great for swimming and unwinding. It's also a great place to take a boat ride and take in the Butterfly and Honeymoon Beaches, which are nearby. Agonda Beach also has a lot of stores that sell clothing and accessories, making it a great place to shop.
2. Palolem Beach.
Palolem Beach is one of South Goa's most beautiful beaches, and foreign tourists flock to it frequently. The peaceful surroundings are ideal for strolling or simply taking in the breathtaking scenery. The one-mile-long crescent-shaped shore is still lined with shacks, hawkers, restaurants, and eating establishments.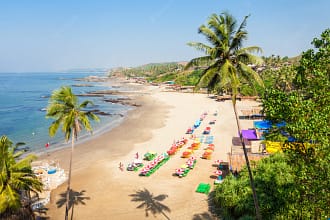 On the other hand, you should go to the southern end of the beach if you want to experience something truly out of this world. In this section, the nature of the tides is hazier and more uncertain. Consequently, water sports like boating and kayaking are available here.
3. Baga Beach.
Baga Beach is well-known for its commercial nightlife. The famous Tito's Lane has many bars, lounges, and clubs such as Club Tito, Cafe Mambo, Cape town Cafe, Cocktails and Dreams, and Cavala that contribute to Baga Beach's nightlife being one of the best in Goa.
Baga Beach is a popular tourist destination and beach in North Goa. Baga is located at the northern end of a continuous beach stretch that begins in Sinquerim, continues to Candolim, then to Calangute, and finally to Baga.
It is Goa's most popular beach for Indian tourists, and it has something for everyone. It is easily Goa's most happening beach, with parties, music, beach shacks, karaoke, decent food, water sports, and good accommodation options.
4. Basilica and Bom Jesus.
Built-in 1605 AD in Old Goa, the Basilica of Bom Jesus is one of the oldest churches in India. It is Goa's oldest church and houses the relics of St. Francis Xavier, a close friend of St. Ignatius Loyola, with whom he founded the Society of Jesus. 
The basilica is a museum of art, architecture, and history. It is the only basilica without plaster. In addition, there is a modern art gallery, one of the largest of its kind in Asia, with biblical-themed paintings.
5. Dudhsagar Waterfalls.
Dudhsagar Falls, which translates to "sea of milk," is named for its milky white color. In either the Mollem National Park or the Bhagwan Mahaveer Sanctuary, you can find the majestic and breathtakingly beautiful Dudhsagar Falls. For both domestic and international tourists, the Mandovi River's spectacular descent from more than 1017 feet up the mountain's steep side is a breathtaking sight.
The Mandovi River enters the Western Ghats after rising on the Deccan Plateau in Karnataka.  It is safest to trek during the monsoon season (October to February) when you can make the most of your visit.
6. Fort Aguada.
In order to defend the Portuguese stronghold in Goa against Maratha and Dutch invasions, the Aguada Fort was built. It was the most prized Portuguese fortress in the seventeenth century due to its strategic location at the mouth of the Mandovi River and the Arabian Sea.
The best time to visit Aguada Fort is from September to March. The best time to visit the fort is during the monsoon season, between 9:30 a.m. and 6:30 p.m. because of the beautiful view. It would take approximately two hours to complete the tour in its entirety.
;-
Best places to visit in Goa. Goa's white-sand beaches, vibrant nightlife, religious sites, and World Heritage-listed architecture draw a large number of domestic and international tourists annually. Due to its proximity to the Northwestern Ghats rainforests, one of the world's rare biodiversity hotspots, it also has a wide range of plants and animals.